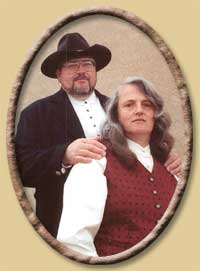 About Elijah's Rest
Hello, Tom and Sheri welcome you to Elijah's Rest.
We, Tom and Sheri, have been in the service industry, in one form or another, for most of our working lives. We enjoy the variety that life provides in working with people from all walks of life.
We also enjoy having our guests sit down to a home cooked meal that we both have prepared together and sharing stories or experiences of life in the mountains.
Tom, along with a heart for the kitchen, enjoys a day in the mountains hunting, hiking, fishing or just exploring to discover new scenic views.
When not creating goodies in the kitchen, Sheri enjoys quilting, as well as a good book while resting along the river.
Most of all we really enjoy seeing our guests satisfied from their full breakfast and a rested smile upon their faces as they head out to enjoy the day in the mountains, sightseeing or off to their porch to enjoy a good book.
We hope to see you soon and to sit over a cup of coffee with you and hear about the adventures of your life.